Researcher, Product Designer, Tester
2 weeks
iOS Native App
Additional Team Members (3)
Problem
Many people need help with motivation when stuck, anxious, or depressed. They don't need a replacement for their to-do lists, but rather a way to get into the right mindset for success.
Deliverables
I partnered with three other designers, and we each performed extensive user research, ideated as a group, conducted usability tests, as well as collaborated on the design choices that made up our wireframes and became our prototypes.
Solution
How is motivation "supposed" to work?
The feeling of being lost and not motivated is no stranger to most people. Many struggle with starting tasks, completing them, and staying on track. In the past, motivation was viewed as something that some people just "had", and that anyone could be motivated if they just "did it". 
But... is that true? 
Our team set out to discover whether or not this assumption of how motivation works is true. 
The Four Tendencies
Through desk research, we learned about Gretchen Rubin, researcher and author, and her research on motivational tendencies and how people respond to inner and external motivations. This was crucial for us, as our solution would be a way of tailoring the in-app experience based on what motivates people. 
Of the four types, the most common are obligers, who are motivated by external factors like other people, and questioners who need to know why they're doing something and are motivated by what makes sense to them.
User Interviews
What did we learn?
People understand deep down that they are capable of achieving their goals. 
But when they're struggling, it's difficult to recall these feelings.
Defining the Problem
In order to maintain a user-centered approach to our design, our team developed two different archetypes which we used to facilitate discussions about our users needs and goals.
Meet "Down in the dumps" Dan. He'll be our primary persona that we design for.

People lose motivation when they are overwhelmed (have too much to do) or underwhelmed (feeling like they lack direction). While strategies like accountability, small tasks, and self-trust help them work, it's difficult to recall these strategies when struggling with anxiety and doubt in challenging times.
Dan feels lost – he needs a way to get back on track and feel capable in his everyday life.
How might we give Dan actionable tools to motivate him to get started and feel capable of success?
How did we solve this problem?
How did we get to our solution?
We kicked off our ideating stage with two design studios, where we independently generated our own design ideas for five minutes, and critiqued each others for a minute each before coming up on a common final solution.
Below are our key design choices, supported by user interview quotes.
Do our solutions work?
We conducted a total of 10 usability tests over 2 rounds of testing. Our paper wireframes served as our prototype for our first round of testing, and the iterations from those tests were reflected in our mid-fidelity wireframes in Sketch. After our second round of testing, we applied the iterations to the mid-fidelity frames and then created our high fidelity wireframes for our final prototype.
Scenarios & Tasks
SCENARIO #1: You were recently laid off of your job, and are also in a new city with no friends or family to support you. You spend your days bumming around on the couch and watching Netflix. You decide you need some direction in your life, but don't know where or how to get started.
TASK: Set up your account.
SCENARIO #2: Now that you've completed your account set up, it's time for you to do the first task of the day.
TASK: Complete your first daily task.

SCENARIO #3: You have a tough time recalling past accomplishments, but when you are able to remember them it gives you a confidence boost. You're looking for a place to store these positive memories.
TASK: Enter a recent accomplishment you can look back on in times of need.
SCENARIO #4: At night before you jump into bed, your phone buzzes with a notification.
TASK: Check your phone, and complete the check-in.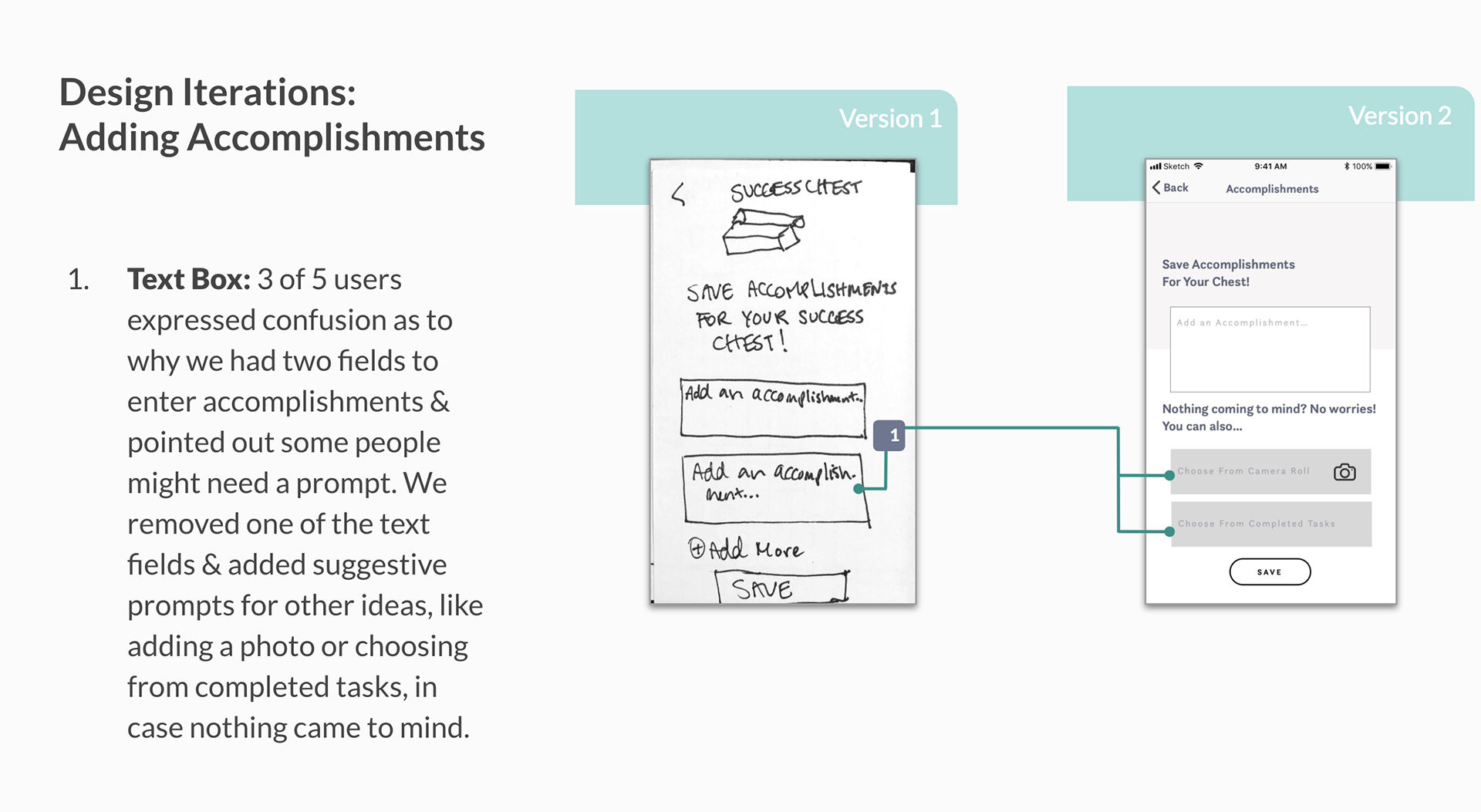 Next Steps
The first of our next steps is to conduct additional rounds of testing for the high-fidelity prototype. This will take place over 2–4 weeks, as research shows it takes roughly 4 weeks for behaviors to change and initial incentives to wear off. Concurrently, we would begin to design and test other user flows through the app.
Looking forward, our team would like to see how users respond to the app after a period of a few weeks, and see what the retention rate could look like.
Other Work